Valerie Dodds is a former student of Nebraska's prestigious Catholic high school St. Pius X. Instead of making plans for college, 19-year-old Dodds decided that she wanted to establish her own adult entertainment website under her sexy modeling name, Val Midwest. Apparently, several of her fellow classmates didn't approve of the idea, and they started saying some mean things. So over Mother's Day weekend, Dodds decided to get her revenge... by posing for several racy, nude snapshots around her old high school stomping grounds! Dodds ultimately received a ticket for trespassing and public nudity for her inappropriate photo shoot... so she recently went back to Pius X to take some steamy pics yet AGAIN. This time, she made sure to flaunt a pair of undies and barely-there pasties... rather an odd form of revenge porn, huh?

Like Us on Facebook
UPDATE: Valerie Dodds PHOTOS, 'Val Midwest' porn star heads to jail for racy, nude Catholic High School snapshots, reignites viral fame

According to the Lincoln, NE native, her plans to become an adult entertainer didn't go over so well with several of her hometown buddies. "All of the Pius kids were saying mean things and that's when I decided to go there and show them that I'm here to stay," Dodds told ABC affiliate KETV.

So a year later, Dodds returned to her old high school... naked. She apparently posed for several racy shots on Mother's Day night and planned on posting them on her new website. The Lincoln Journal Star reports that she recently received a ticket for trespassing and public nudity as a result.

But Dodds wasn't finished... she returned to Pius X again, this time (semi) clothed and during the daylight. A police spokesman claims that this time, her racy stunt didn't break the law.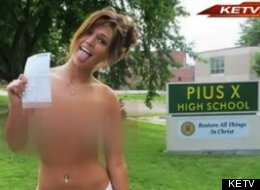 According to a City of Lincoln government website outlining offenses against public decency, "It is the intent of the City to prohibit the exploitation of human nudity for the purpose of advertising, selling, or otherwise promoting the economic interests of any type of business enterprise."

That doesn't seem to bother Dodds - "I kind of want to go down to the courthouse and do a set right up front in pasties and panties. That sounds fun to me," she laughingly told KETV.

What do Mstars fans think about Dodd's unconventional photo shoots... hey, she's getting her name out there!

Check out more of the story over at KETV.

© 2016 Mstars News, All rights reserved. Do not reproduce without permission.